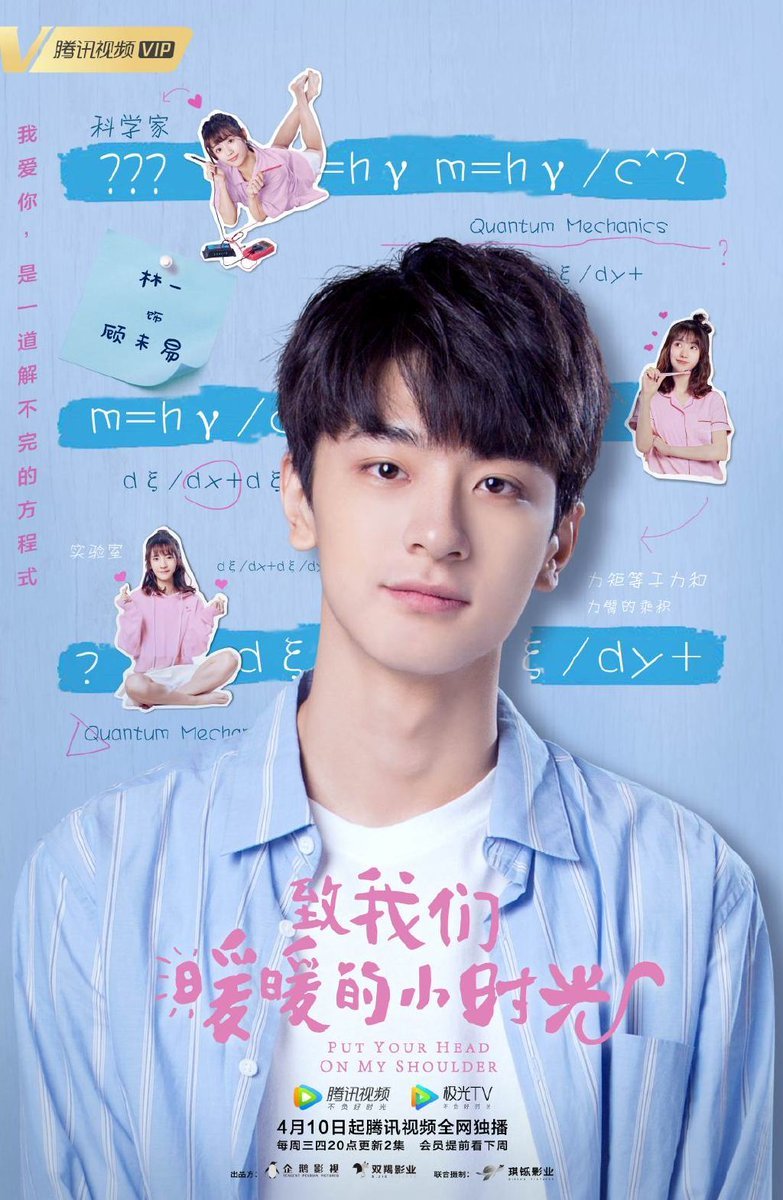 assalamualaikum and hello peps!
i'm back with another review! drama ni dah lama bulan 4 ritu. aku dah sesiap letak dalam playlist /oh btw you can watch it on youtube and of course ada eng subs/ actually faezah yang suggest suruh tengok laaaaaama dah tapi time tu idk either i'm too busy with manga or got zero mood with drama. without wasting any time let's jump to synopsis first!
synopsis
Gu Wei Yi (Lin Yi) is a nerdy guy and studying in physics field. jenis calm and idgaf with anyone. dia jenis kalau dia tak suka dia cakap straight on your face so don't mess around with him even his mum pun takut kalau tengok dia marah. oh btw dia ni top student in his faculty. kesayangan prof jugak la.
one day dia terjumpa terlanggar Si Tu Mo (Fair Xing). dia langgar pakai basikal weih. Si Tu Mo aka momo time tu duduk belakang yang bawak Fu Pei. Fu Pei ni exboyfriend best friend momo merangkap roommate Gu Wei Yi. masa gu wei nak tolong momo dia terswap beg dengan momo. end up gu wei tak boleh ambik exam sebab slip exam dalam beg dia which is pada momo, and momo fail interview dia sebab portfolio dalam beg pada gu wei. since then kiranya diorang sentiasa jumpa tak kirala kebetulan ataupun sebab Fu Pei.
Fu Pei macam tak sedar atau sebenarnya dia nak lari dari kenyataan yang dia still sayang pada momo but he just put her as his best friend. lama lama momo just fed up. dia penat dengan fu pei. gu wei secara tak sengaja jadi orang tengah antara diorang dulu and also start jatuh hati pada momo.
from my pov (point of view) ye aku annoying gila babun dengan character Fu Pei dia punya main tarik tali tu fuuh aku pulak emo lebih. aku perasan yang watak fu pei macam kayu sikit. aku tak dapat feel/nampak any change of emotion from him. idk aku yang tak fokus kat dia ke apa en. watak jahat yang tak berapa jahat dia pun macam ala ala je. kira macam acah acah nak jadi third person tapi baik. less stress! HAHAHAHAHAHA can i talk about this couple? LIKE OH MY GODDD cute namate geng serius. i love how gu wei treat momo patiently. aku perasan tau everytime momo macam start marah marah, gu wei akan tunduk, selaras dengan mata momo pastu cakap elok elok like jdhdhjfjdsgfhgzsfj.
total episodes: 24 + extra episode
cinematography: 3/5
stroryline: 3/5 (less drama. they really focus on gu wei & momo hence rarely got really intense drama or third person yang tahap gila baben)
ost: 5/5 (i love all of their ost!)
i really wish that diorg punya third person strong like mampu nak goyahkan diorg but well maybe drama ni memang nak fokuskan how cute-lovely this couple. diorang gaduh pun benda like small matter je so tak lama mana gaduh. oh btw gu wei (lin yi) ni just 20 years old and also this is his first drama terus dapat lead role kot. overall i like his acting takdela nampak flawless but still aku tak tahu pun dia ni kira newbie kalau aku tak google nama dia.
if you guys pernah tengok love 020 i surely you guys gonna love this drama too. same type of drama but lighter version. kiranya gu wei ni light version of xiou nai. nah berlanja tease sikit. hehehe.
this is z, signing off.