{review} kanojo wa uso wo aishisugiteru
22:51
Movie: kanojo wa uso wo aishisugiteru // the liar and his lover ( English title )




Release date: 14 Disember 2013




Genres: drama, friendship, romance, music
Synopsis:
Set within music field, "Kanojo wa Uso o Aishisugiteru" depicts a love story between a 25-year-old sound engineer and 16-year-old high school student Riko, who posessess a gifted voice. 25-year-old sound engineer Aki (Takeru Sato) is a member of popular band "Crude Play," but right after the band decides to make their major record debut Aki quits the band. But, Aki provides his music to Crude Play under the name of producer Soichiro. Aki begins to date Riko (Sakurako Ohara), whose father runs a fruit and vegetable shop. Riko doesn't know about Aki's background, but she likes to listen to him hum. Riko is in a band herself, with childhood friend Yuichi and Sota. One day she is scouted by producer Soichiro. --kissasian
setelah sekian lama fatin suruh tengok finally harini download and terus tengok. one more thing, sebab this movie dah diadaptasikan jadi k-drama so ni kiranya macam sneak peak before jump to drama. 1 jam 56 minit tapi banyak gilaaaaaa ost belum lagi masuk part Takeru humming *fake cough*
Overview:
Bagi aku yang selalu tengok k-drama/k-movie, bila try tengok j-movie macam ada lost something but this one, MAAAAAAAN YANG NI TERUS FANGIRL ;') storyline kindda simple and complete. At first memang buat aku confuse jap sebab dia ada narrator as background. ingatkan flashback ke apa, rupanya dia more like inner voice.
cinematography, 8/10. how the camera move along dengan character, the scene itself. Urg, bertapa banyak kalinya tekan prt sc button sebab semuaaaaanyaaa lawa and cute.
*Takeru buat moves tanpa dijangka._. poor my heatue*
Karakter:
Name:
Takeru Sato as Aki Ogasawara
Describe:
messy bed hair, suka lepak kat bridge kalau tengah serabut pastu dapat ilham. Komposer lagu Crude Play dan Mari. Genius in music like seriously dengar bunyi air pun boleh buat melodi. Ex bass in Crude Play.
satu jelah aku tak suka pasal dia ni, kalau benda tu dah jadi teruk dia terus give up.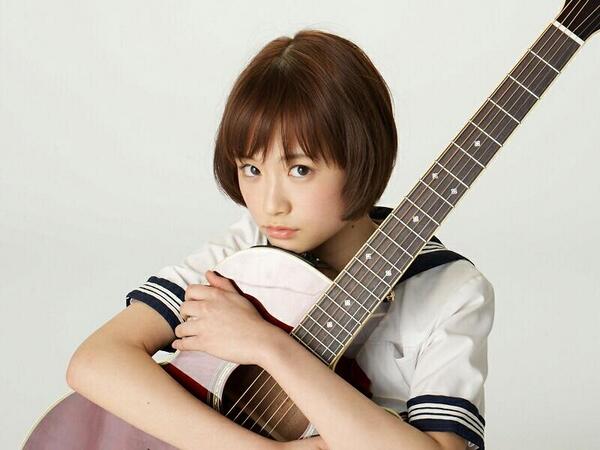 Name:
Sakurako Ohara act as Riko Koeda
Describe:
Rambut macam mushroom. Debut as Mush & Co. dengan Yuichi dan Sota. Pandai main guitar. Clumsy. Suara tahap aku boleh ber-feeling nak menangis. Give up tak pernah wujud dalam kamus hidup dia. Innocent.
*p/s i don't know why but aku perasan Yuichi ni ada hati kat Riko. cara dia pandang Riko, cara dia protect Riko andddddd ada satu scene tu Riko tak zip beg dia punya berleter kalah mak aku :')
SPOILER